About the Area (Pittsboro, NC)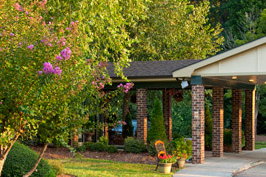 A recently remodeled, safe, home-like environment within a beautiful setting, the Laurels of Chatham is conveniently located in the historic town of Pittsboro near Sanford, Siler City, Chapel Hill and Western Wake County.
Pittsboro was established in 1785. In 1787 Pittsboro was officially named the county seat. Although, Chatham County is named for William Pitt, 1st Earl of Chatham, Pittsboro is named for his son, William Pitt the Younger.
Pittsboro was once considered as a potential site for both the University of North Carolina and the state capitol. UNC was eventually sited in Chapel Hill and the state capitol was located approximately 30 miles to the east of Pittsboro, in Raleigh.
Charles M. Stedman, the last Civil War veteran to serve in Congress, was born in Pittsboro on Jan. 29, 1841.
Hospitals: